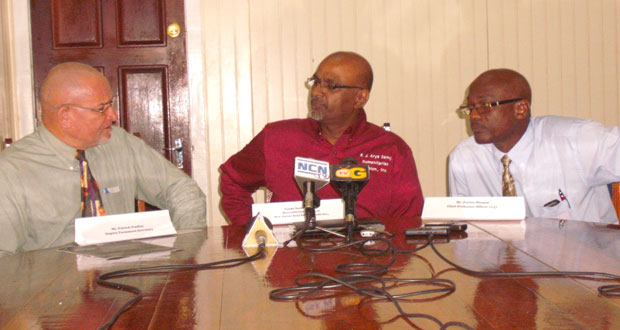 February 11, 2014
Written By Telesha Ramnarine
THE Humanitarian Mission of New Jersey Arya Samaj Mandir Inc. is inviting the public to attend its 'Let's Talk Initiative on Suicide Prevention and Spirituality' today, at the Corentyne Comprehensive High School, Port Mourant, Berbice.The United States (U.S.) based organisation has been working in Guyana since 2005 and is collaborating with several key stakeholders on this project.
Among them are the Ministry of Labour, Human Services and Social Security, the Region 6 (East Berbice/Corentyne) Regional Democratic Council (RDC), the Regional Education Department, the New Amsterdam Hospital Administration, Law Enforcement Officers, faith-based organisations, the business community and Rotary and Lions Clubs.
President of the international voluntary organisation, Pandit Suresh Sugrim has announced that there will be handouts and flyers on suicide that will be distributed to the audience, to help educate and spread awareness of all aspects on suicide and spirituality.
The programme is scheduled from 11:00 hrs to 13:00 hrs.
Sugrim, along with Deputy Permanent Secretary of the Human Services Ministry, Mr. Patrick Findlay and Chief Probation Officer, Mr. Forbes Munroe hosted a press conference, at the ministry on Cornhill Street, Georgetown yesterday, to talk about the initiative.
No secret
Findlay said it is no secret that the country has been inundated, lately, by a rising spate of suicides, of which Berbice has, again, taken the lead.
He said Minister Jennifer Webster will be present at the event today and she welcomes the hosting to which she is giving her wholehearted support.
Munroe observed that suicide is as a result of a feeling of hopelessness and noted that his department has taken measures to get out into the society and meet with various groups in an effort to address the issue.
Meanwhile, Sugrim said spirituality is needed to combat the problem.
"As long as the person is spiritual, that person will not turn to suicide. Every one of us will hit rock bottom from time to time, but committing suicide is not the solution. God gave us the gift of life not for us to take it but for us to enjoy it," he remarked.
He said, for today's occasion, they will be bringing together approximately 200 children from various high schools.
The New Jersey Arya Samaj Mandir Inc, Humanitarian Mission, is a non-profit and cultural entity which facilitates victims of gender-based violence and gives assistance to people who are in dire need of the basic necessities, such as food, clothing and shelter.
Moreover, the social and charitable works are the basic hallmarks of Hinduism and the Arya Samaj Movement. Hinduism is not only based on rituals, but teaches the principles of 'sewa' (service) to humanity.
Reform movement
This organisation of Arya Samaj was established in 1785, by Maharishi Swami Dayanand Saraswati, as a Hindu reform movement with the aim of services to the unfortunate and needy human race, such as orphans, poverty and disaster struck victims, widows that are facing difficulties, domestic abused women and children, irrespective of their ethnic origin and backgrounds.
Guyana was rendered aid by that New York based organisation in July-August 2005 and has a branch, managed by the Berbice Central Arya Samaj, which seeks to assist the children in the orphanages there, as well as countrywide.
Many children benefited from the initial mission receiving basic necessities. The New Jersey Arya Samaj Mandir, Inc. continues to work diligently as they proceed to help improve Guyana.